Waking up in the center of Barcelona with a whole day ahead of you to enjoy the city is just one of the benefits Casagrand offers you. The feeling of being at home takes a hold of you from the very moment you arrive in our exclusive apartments. Today we tell you what a day in Casagrand is like and all the extra details that await you during your visit. 
Welcome home
Our exclusive apartments are located on Avenida Diagonal, right in the center of Barcelona. A location easily accessible both from Barcelona airport and from the city's train stations. It does not matter what time you arrive at Casagrand, our concierge will be waiting for you to welcome you home and will be at your disposal 24 hours a day. 
All your questions answered
Not sure where to go for dinner? Want to prepare a surprise for your child? Is it your partner's birthday? Don't worry, our 24-hour concierge service is happy to help you in any task you need. Get a reservation at that trendy restaurant, enjoy that show you wanted to see and enjoy your stay in Barcelona. We are here for everything you need.
Your relaxation space
We know you have come far to visit us. That is why you will find your apartment ready for you to rest from your trip. The rooms of the Casagrand apartments are perfectly soundproofed to protect your precious hours of sleep. We have also prepared little extra details so that you enjoy your stay even more. Like the threaded sheets waiting for you in your extra-large bed. Relax and enjoy the night. A day full of excitement awaits you.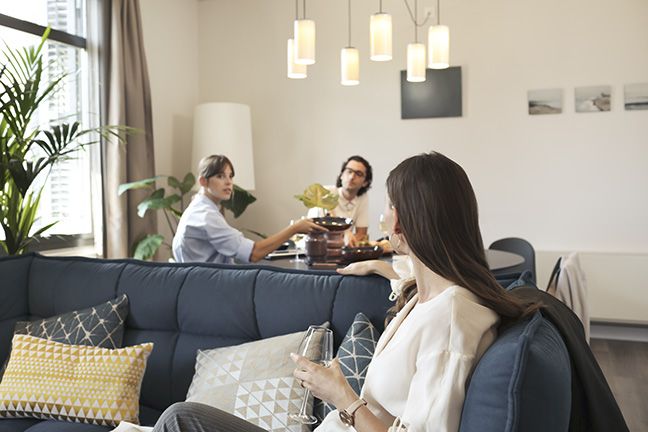 Breakfast in bed
Juices, sliced fruit, freshly brewed coffee and tea, eggs, pastries specially selected for you… This is the famous Casagrand breakfast that you ordered last night. Wake up and find it already ready and waiting for you to enjoy. Good morning!
A day for you
We know that you enjoy a bit of self-care. So, Casagrand has different wellness options specially designed for you. Start the day with a relaxing swim in the pool. On our rooftop you will find a hammock area with incredible views of the city. Ask for a juice or a cocktail and sunbathe on our solarium. In the afternoon, disconnect by exercising in our fully equipped gym, visiting the sauna or joining one of our outdoor yoga sessions.
The best ending
The perfect day at Casagrand ends with a full body massage in your apartment. We have a complete menu of body therapies so you can release all the tensions of the day. After this, enjoy a refreshing shower and get ready to enjoy the nightlife of Barcelona. The best restaurants in the city are awaiting you. 
Book your apartment now at Casagrand to enjoy a unique experience in Barcelona. We are waiting for you!