CASAGRAND
LUXURY APARTMENTS ╲ BARCELONA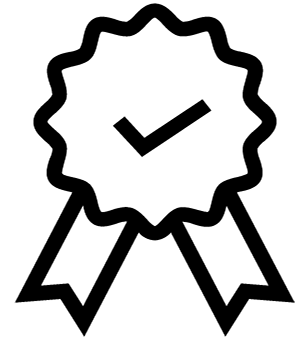 Book directly with us: it's well worth it!
Best rate guaranteed
Free airport transfer
Free booking changes
VIP treatment
Spaces that indulge all your senses
There is nothing quite like feeling at home. Well, perhaps being in a place that is even better than home… Take a deep breath, relax and enjoy the moment. Discover
Casagrand
. Unique luxury apartments. Far more than a home away from home.
╲
WHAT OUR GUESTS SAY
A big thank you to the entire Casagrand staff Our trip to Barcelona was magical...your beautifully located, spacious 4 bedroom 3 bath apartment apartment provided welcome rest from our daily excursions. We hope to visit your wonderful city again and will hopefully have the opportunity to stay at the Casagrand.

Mary Mino

26 Nov 2017

Awesome place The luxury apartment is truly luxury. The staff was awesome and the apartment has many amenities, was clean and much larger than anticipated. If we go back to Barcelona in the future we will definitely stay here.

Salim A

22 Jun 2018

Completely blown away! Stayed here as a group of 8 ladies gor 2 nights and had an absolutely fabulous stay. From the arrival welcome right through to our departure,everything was perfect and nothing was too much trouble for the staff. We were shown to our apartment and given... + clear instructions on how everything worked. We stayed in room 2 on the second floor, which had 4 immaculate bedrooms with the best pillows I've ever encountered in any hotel. Luxury bathrobes and slippers were also provided in each room, along with a selection of good quality towels.The 3 bathrooms were spacious and again immaculately clean with a good selection of toiletries and a hairdryer. The living area was large and modern and the kitchen housed everything we could have needed for our stay. Bottled water was also provided daily which was another unexpected bonus, as was the fresh cake provided. The roof terrace was another plus point. It was great to be able to relax up there, soaking up the sun and appreciating the beautiful views whilst helping ourselves to the complimentary soft drinks fridge. Another unexpected but very welcome extra touch. The apartment is in a good location. 15-20 minutes walk to Ramblas but also has a selection of restaurants, shops and supermarkets within a few minutes walk. I would definitely recommend this apartment and we all can't wait to return.

michelle h

03 Jul 2018

Great place! very spacious and very clean. I highly recommend it and will stay again.

Newby's Vacuums

10 Aug 2018

4 wonderful days at Casagrand We rented the 4 br suite, it has 2 master suites with bathroom ( shower and tub) 2 other br share a bath. Beautifully decorated, nice balcony off the living room. kitchen is accommodating. Clothes washer and dryer came in handy. We arrived on an... + early morning flight , we were able to drop off our luggage without any problems. The front desk clerk was friendly and made us feel welcomed. When we came back after 4 pm , or luggage was already in our apartment. We received maps of Barcelona along with metro info and restaurant suggestions from the receptionist. All 7 of us loved the apartment and enjoyed our stay there. Plenty of cafes and restaurants within minutes of walking distance from the apartment. highly recommend this place. The rooftop lounging area is great. Thanks to everyone at Casagrand for making our stay in Barcelona memorable.

shital1222

20 Jun 2018

Best apartments anywhere in the world Casagrand must be the best apartments I've ever stayed in anywhere in the world. Excellent location in a dynamic, upscale part of town but still within short walking distance to the main sights. The apartment (2-2) itself was huge. We were 7 in all and... + there was plenty of rooms and bathrooms for all of us. The beds were comfortable, the kitchen and bathrooms well appointed, and the ambience was truly elegant. Casagrand made for a great start to our 2 week Spain vacation. We received a lot of help and good conversation from the staff -- they really go the extra mile to give hands on service, something that travelers like me and my family always look for abroad. For the price, the total experience was definitely worth it. I would never hesitate to stay at Casagrand if we ever get to visit Barcelona again!

Bonki A

19 Jun 2018
Luxury facilities in a building with a great history
Both the apartments themselves and the common areas – the roof terrace, the pool, the gym, the sauna in the dome – transmit the essence of the architect Enric Sagnier's modernism. Sagnier was a contemporary of Gaudí's who designed this amazing building in 1929 in one of the most exclusive areas of Barcelona. When you stay here, you really live the history of this great city.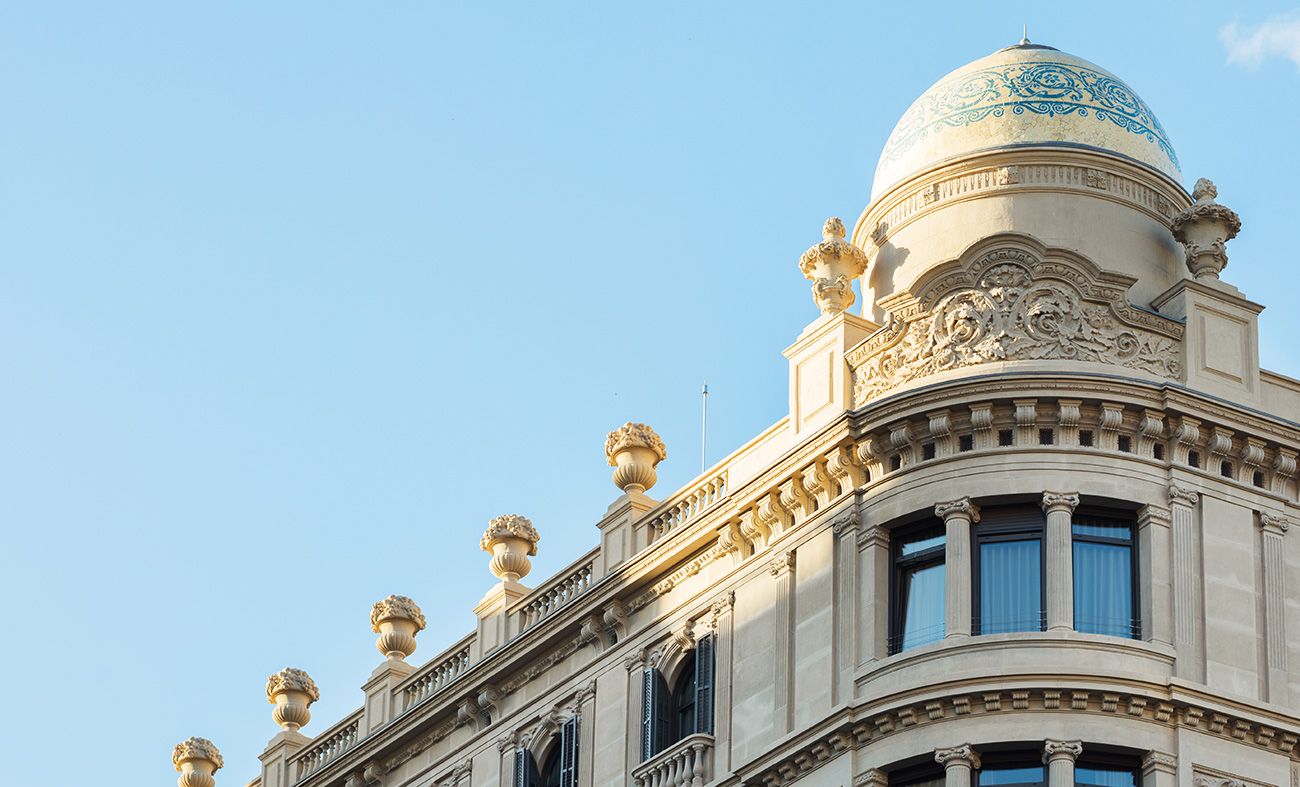 Spacious apartments with 5-star hotel services
Just relax.
We have it all covered.
ART COLLECTION
Surrounding yourself with culture and beauty is a true luxury.
We knew from the outset that our building had to be a work of art in itself. So we set out to collect work from the city's artistic avant-garde.
We have contemporary pieces by up and coming artists such as Alicia Kopf, Regina Giménez and Joan Fontcuberta. We are active and committed in participating in Barcelona's cultural movement.
The pieces that are exhibited are both by up and coming artists just starting on the exhibition circuit, as well as artists who are already some way into their careers.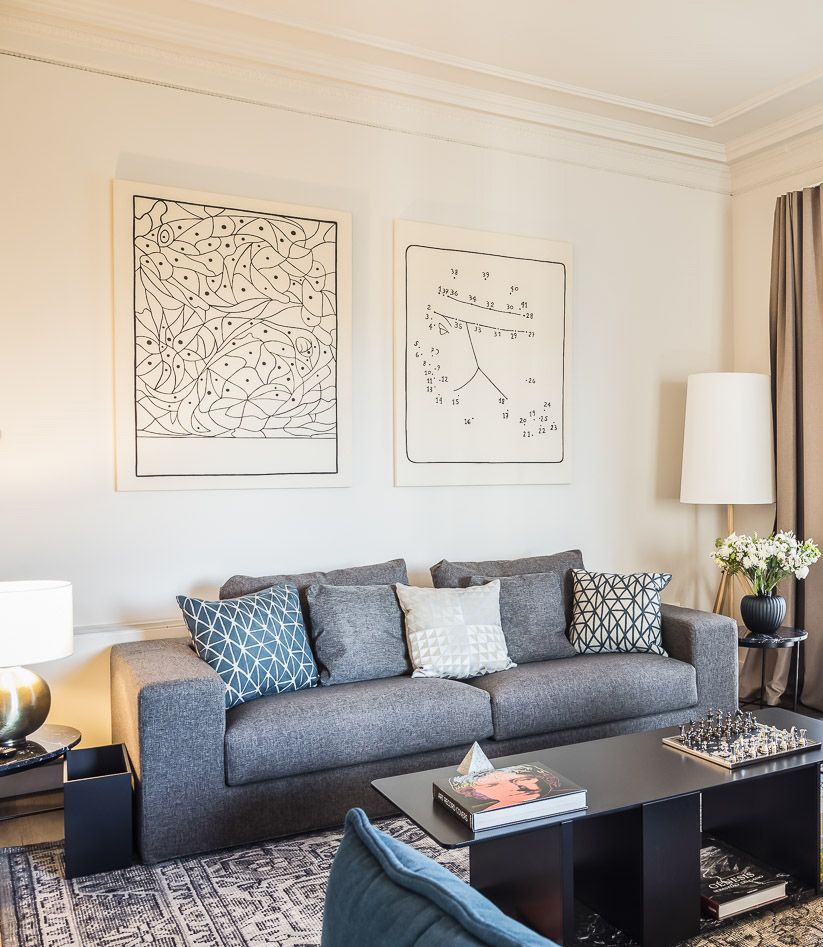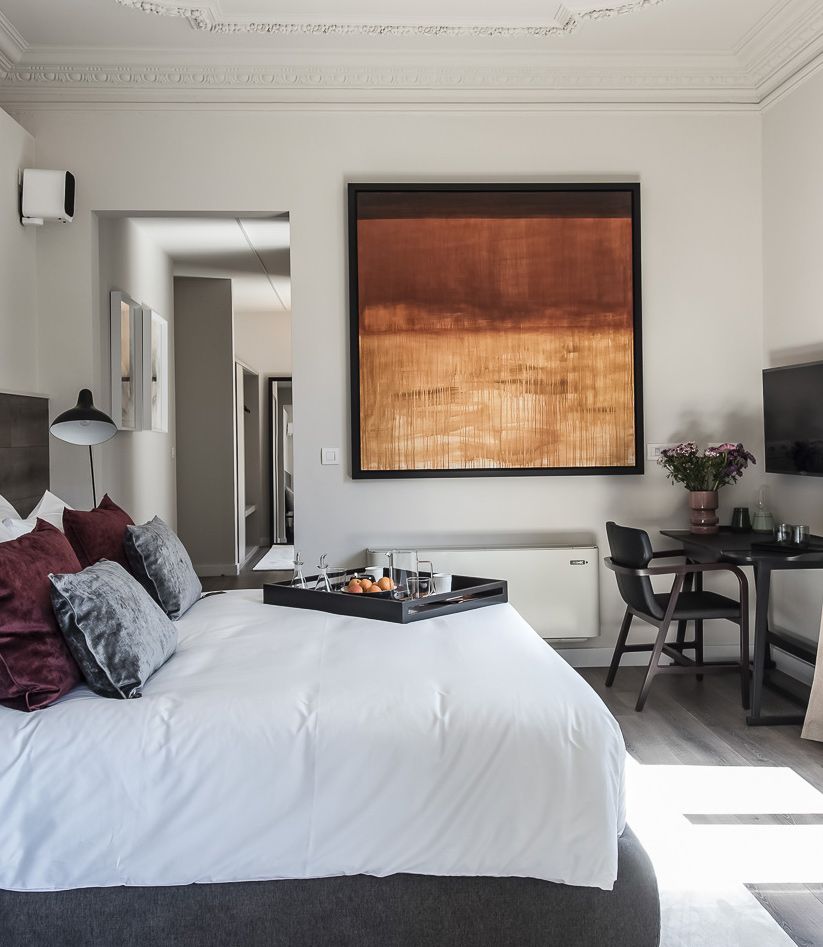 Warm welcomes are in our DNA
Casagrand is part of the Aspasios family. Aspasios is a company with more than 10 years' experience in hospitality and we are growing every day.
Our vocation for hospitality is unstoppable. We learn so much from listening to our guests every day, and they help us improve everything we do. We want to really get to know the people who visit us, offer them the best of ourselves and be their reason to return. We are hard working but flexible, professional yet friendly.
by Aspasios Boutique Apartments